Foster Care Angels has donated care packages the Illawarra
by Kelly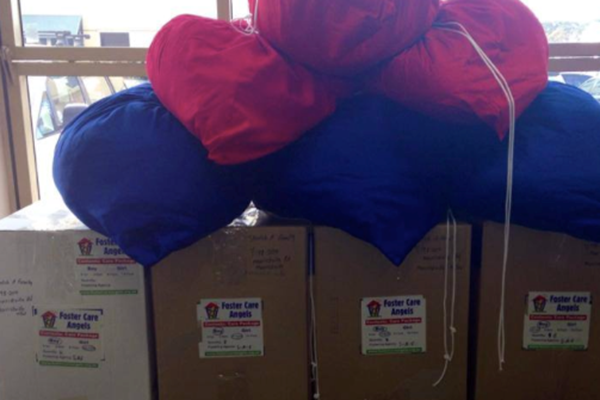 Foster Care Angels has donated 200 care packages, in addition to 8 'Bed In A Bag' packages and 2 laptops, for foster care children in the Illawarra, helping ease what can often be a difficult and confusing transition into the foster care system.
When a child is first placed into foster care, they have often left their home in a hurry with little to none of their personal possessions. Foster Care Angels' care packages include essential toiletries, school supplies, toys, books and a comfort item. The 'Bed In A Bag' packages include a sheet set, towel and face washer, quilt and quilt cover, and a pillow with case. Each package is hand assembled with the gender and age of the receiver in mind.
The items have been donated to local foster care agencies CareSouth and the William Campbell Foundation to be provided to children entering the foster care system.
Kelly Doyle, Founder and President of Foster Care Angels as well as a foster carer herself, launched the program after seeing how confronting and traumatic the move into foster care can be for children first-hand.
"The transition into foster care turns children's lives upside down. By giving children something which is theirs to own and cherish, we can help build self-esteem and self-empowerment, as they enter a new and unfamiliar environment."
Dannielle O'Rourke, a Foster Care Angels supporter and previous foster child in the Illawarra region, now 33, first entered the foster care system at 13 years old.
"Without warning, I was plucked out of my normalcy and put into the foster care system without much of an explanation. Moving between foster parents and homes made me feel like I was losing a bit of my identity."
"There is a lot of support out there for foster parents which is great, but very little for foster kids, and these care packages go a long way to help that."
Jennifer Nelson, CareSouth's Community Relations Manager believes the care packages will contribute to CareSouth's vision by providing the children and young people entering Out of Home Care with something that is uniquely their own.
"Living in foster care can be difficult, and we know that these small kindnesses make a world of difference."
Suellen Emerton, Administrator of William Campbell Foundation, believes the Foster Care Angels care packages go toward ensuring the children feel less alone as they enter out of home care.
"They can feel traumatised and isolated at this emotional time – knowing someone 'out there' is giving them a care package can be heart warming for them."
At any given time there are over 20,000 children and teenagers in the foster care system in NSW.
100% volunteer run, Foster Care Angels is committed to empowering children and young people, supporting carers, and fostering hope throughout the foster care system.
For more information about Foster Care Angels and the work they do, or if you would like to make a tax deductible donatation, please visit www.fostercareangels.org.au